3D embroidery is the most difficult form of embroidery. If possible, we embroider it (partly) 3D. That is always without additional costs. The shape determines whether it is possible.
Here are 4 fantastic examples:
Block letters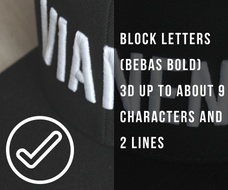 Block letters can often be embroidered in 3D. When you place a lot of letters, they become too small to embroider 3D.
We do not embroider wider than 1 cm. The letter may be wider than 1 cm. We are talking about the individual parts of the letters. The lines of the letter. Very thick letters can therefore not embroidered in 3D. Do you have super thick letters ..... read on quickly. We have a very nice solution for that.
RAISED EDGE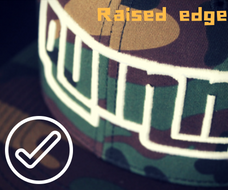 A very nice solution. Condition: A border can be added. We usually can not embroider thinner than 2.5 to 3 mm wide 3D. Naturally, a variant with filling is also possible.
Raised Edge + 2D fill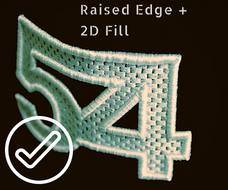 A filling also gives depth through a shadow. There is a choice of stripes, blocks, etc.
The special filling as in the photo gives the illusion of a fabric.